Micro Goldendoodles, Teacup Goldendoodles, Toy Goldendoodles & Mini Golden doodle puppies for sale
Ruby's Teacup Goldendoodle Puppies
estimated to be
between 7-15 lbs
Ready to go home Sept 20th
Precious Pups : 801-603-1059
$3500
Litter Info for Ruby & Jaxon's Teacup Goldendoodle Puppies
Teacup Goldendoodles
$3500
Estimated Size : abt 7-15 lbs
Born : July 26th, 2021
Parents : Ruby & Jaxon
Breeder : Precious Pups
Availability : 1 Boy Available
Go Home : abt Sept 20th, 2021
Generation : F1BB Teacup Goldendoodles
Ruby - Mom
Mini Goldendoodle : 15 lbs
Jaxon - Dad
Teacup Poodle : 3.5 lbs
Puppies Available Nationwide
You're welcome to fly in and we'll meet you at the airport; or we can recommend a couple nannies to help deliver your puppy to you.
Goldendoodle Puppies for sale
Teacup Goldendoodle puppies are a beautiful combination of the gentle & happy Golden Retriever as well as the hypoallergenic coat of the poodle.  Having a small, non-shedding, family friendly, playfully happy Teacup Goldendoodle is the ideal family companion.  For families with children or not a lot of space, the Teacup Goldendoodle is ideal because of it's small size and smart friendly breed traits.  At Precious Doodle Dogs, all of our doodle puppies are raised in our homes with our families so that they're comfortable with being played with and being held or handled by children.  We test our breeding dogs for genetic diseases to ensure you have the best chances at a healthy happy Teacup Golden doodle dog!  We strive for the best breeding practices so that every puppy, and every family is happy with their new doodle companion for years and years to come.
Be sure to check out our adorable Teacup Goldendoodle Puppies for sale and let us know if you have any questions before reserving a puppy.  We want to make sure every puppy has a great home that's the right fit for both you and the pup.  If you have any allergy concerns or size concerns be sure to contact us before reserving a puppy!
Precious Teacup Golden Doodle Puppies FAQ
Read through our Frequently Asked Questions to help understand the Goldendoodle breed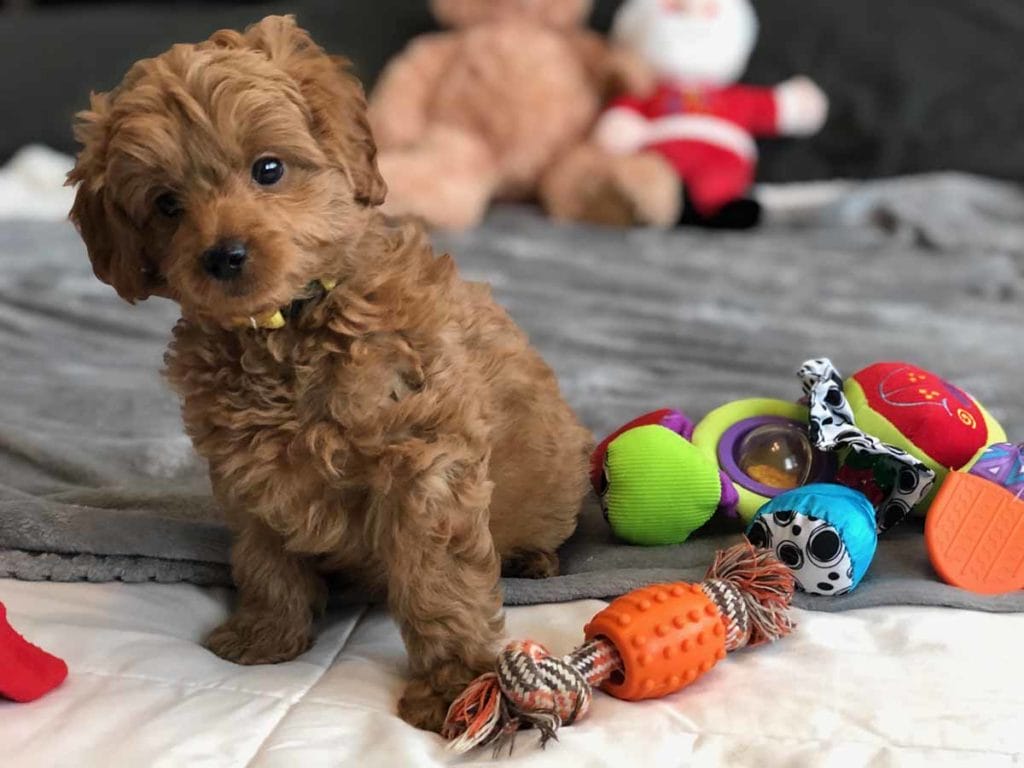 A Goldendoodle is a mixed breed designer dog.  The Golden Doodle breed comes from breeding a Golden Retriever with a Poodle.  The Goldendoodle is a very popular designer breed because of the loving, gentle nature of the Golden Retriever; as well as the hypoallergenic benefits that come from the poodle.  We love our Goldendoodle dogs for their family friendly, playful, and naturally happy nature.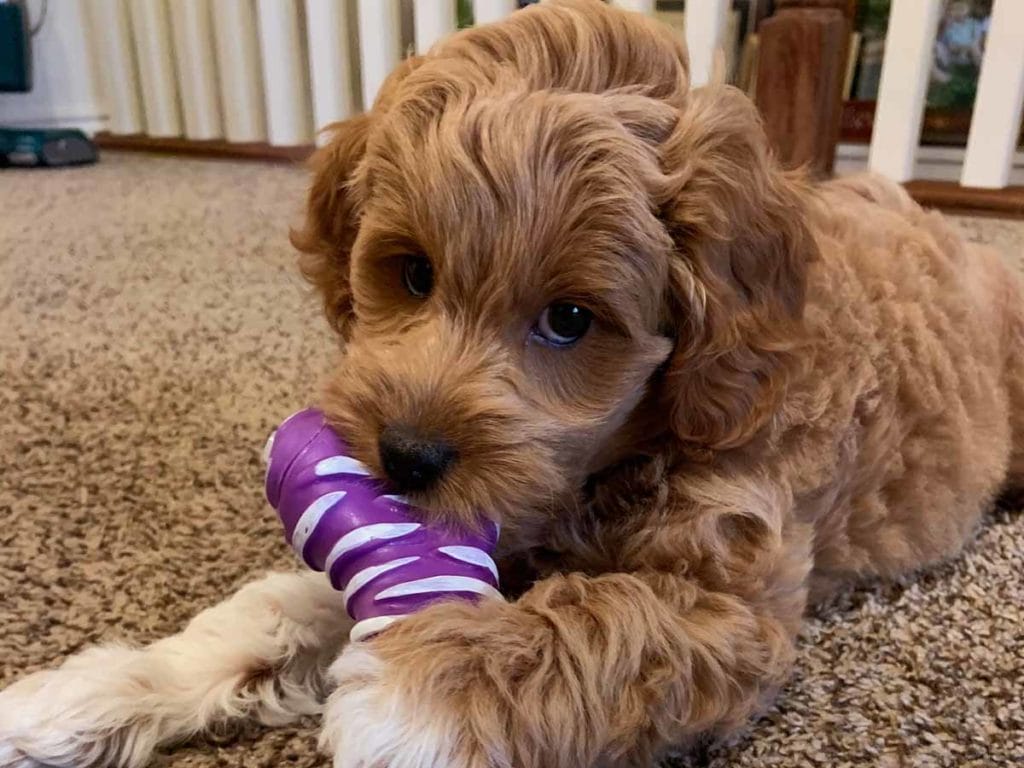 How big do Goldendoodles Get?
The size of your Goldendoodle depends on the size of the parents, including whether they were bred with a Standard Poodle or a Toy Poodle.  A full-size Golden Retriever bred with a Standard Poodle is going to be somewhere between 50-100 lbs; while a Golden Retriever bred with a Toy Poodle could be as small as 15-40 lbs depending on each of the parents weights.  Our Teacup Goldendoodle puppies are estimated to range between 7 lbs & 15 lbs fully grown; while our Micro Golden doodle puppies are estimated to be under 10 lbs.  Occasionally we'll have Toy Goldendoodles or Mini Goldendoodles available.
Will Teacup Goldendoodles Shed?
Whether or not a Goldendoodle shed's is largely dependent on how much poodle they have.  There are some exceptions but generally speaking, when you have more poodle you have less shedding.  Because poodles do not shed anymore than you or I do, they bring that fantastic trait to the Golden doodle coat.  When they are only 50% poodle, most Goldendoodles will still have some light shedding.  As a general rule I try to encourage families looking for hypoallergenic dogs to look for a Goldendoodle that is at least 75% poodle.
Goldendoodle puppies come in all different colors and sizes, so I'm gonna break down our estimated adult sizes for you.  Breeding a full-size Golden Retriever with a Standard Poodle is going to result in a Standard sized Goldendoodle.  We estimate they'll be between 50-100 lbs fully grown.  If you were to breed a Golden Retriever with a Mini Poodle you'd likely get a Medium Goldendoodle at around 30-60 lbs fully grown.  If you breed a Standard or Medium Goldendoodle or Golden Retriever with a Toy poodle you're likely going to get a Mini Goldendoodle that's estimated to be between 15-35 lbs.
Because Teacup Goldendoodles and Micro Goldendoodles are so much smaller than the Golden Retriever; it takes multiple generations to get to the size of a Teacup Golden doodle or Micro Golden doodle.  So in our examples, lets say we breed a Mini Goldendoodle with a Toy Poodle.  Depending on the size of the parent dogs you can either end up with a Toy Goldendoodle ranging from 10-20 lbs fully grown, or you can possibly have Teacup Goldendoodles that are estimated to be between 7-15 lbs.  Then finally you have a Teacup Goldendoodle and you breed it with a Micro or Teacup Poodle (5 lbs or under) and you end up with Micro Goldendoodles that are estimated to be between 5-10 lbs fully grown.  Here's the sizing breakdown to simplify it.
Standard Goldendoodle :     50 - 100 lbs
Medium Goldendoodle :       30 - 60 lbs
Mini Goldendoodle :            15 - 35 lbs
Toy Goldendoodle :             10 - 20 lbs
Teacup Goldendoodle :         7 - 15 lbs
Micro Goldendoodle :            5 - 10 lbs
Teacup Goldendoodle Traits
Teacup Goldendoodles and Micro Goldendoodles are gentle and affectionate dogs with an easy-going temperament. They are extremely intelligent, and according to the Goldendoodle Association of North America, they score in the top 4 of the 150 smartest dog breeds. They tend to get along with everyone and usually don't bark at people they don't recognize. The loving and social Goldendoodle personality makes them great family pets, as they get along with kids and other pets.  They have an extremely social personality and love to be with their fur parents.
Goldendoodles lifespan ranges anywhere from 10 to 15 years with the smaller dogs, like Teacup Goldendoodles and Micro Goldendoodles living up to 17 years.  The smaller dogs do tend to have a longer lifespan, and with genetic testing before breeding these sweetheart doodle dogs are even more likely to live out a long healthy life.
Do Teacup Goldendoodles Train Easily?
Because they are so intelligent, Micro Goldendoodles and Teacup Goldendoodles are fairly easy to train and are often recommended for first-time pet owners or timid pet owners. Some even call Teacup Golden doodles people pleasers because they always want to make their fur parent happy. If your Micro Goldendoodle or Teacup Goldendoodle puppy is a people pleaser, training will be a breeze. Good Goldendoodle behavior should always be rewarded with positive reinforcement.
In understanding Goldendoodle Generations, I find it easiest to look at the percentages of Golden Retriever and Poodle and do the math to figure what the puppies will likely be.  Here is a list of the various goldendoodle generations to help simplify the breakdown.
F1 Goldendoodle (50/50) = Golden Retriever X Poodle
F1B Goldendoodle (75/25) = F1 Goldendoodle (50/50) X Poodle
F2B Goldendoodle (75/25 can vary) = F1B Goldendoodle (75/25) X F1B Goldendoodle (75/25)
F2B Goldendoodle (75/25 can vary) = F1BB Goldendoodle (87.5/12.5) X F1 Goldendoodle (50/50)
F1BB Goldendoodle (87.5/12.5) = F1B Goldendoodle (75/25) X Poodle
F2 Goldendoodle (50/50 can vary) = F1 Goldendoodle (50/50) X F1 Goldendoodle (50/50)
Previous Precious Teacup Goldendoodle Puppies